Se publica un nuevo álbum de Ray Charles: "Genius And Friends"
Después del gran éxito de "Genius Loves Company", se ha publicado un nuevo álbum de dúos de Ray Charles con artistas conocidos. Ray Charles estuvo trabajando en este álbum en el año 1998, pero quedó archivado y al final no se publicó. El álbum ha tenido que completarse, ya que algunas canciones no estaban acabadas.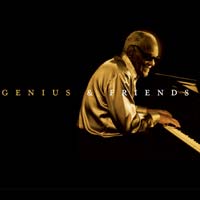 Los temas que incluye son los siguientes:
All I Want To Do, con Angie Stone.
You Are My Sunshine, con Chris Isaak.
It All Goes By So Fast, con Mary J. Blige.
You Were There, con Gladys Knight.
Imagine, con Ruben Studdard.
Compared To What, con Leela James.
Big Bad Love, con Diana Ross.
I Will Be There, con Idina Menzel.
Blame It On The Sun, con George Michael.
Touch, con John Legend.
Shout, con Patti LaBelle & The Andrae Crouch Singers.
Surrender To Love , con Laura Pausini.
Busted (Live), con Willie Nelson.
America, con Alicia Keys.