Jeff Hendrick, Soul Celebration
El nuevo trabajo del canadiense Jeff Hendrick es uno de esos álbumes que no se pueden dejar escapar. Está lleno de buena música R&B y por algunos momentos recuerda al memorable "The Official Steppers Music CD". En mi opinión, Jeff Hendrick no posee una gran voz, pero en este álbum ha sabido encontrar un sonido genial, muy fresco y ha sabido entender perfectamente el sonido R&B, Funk, Soul que actualmente está de moda. Cualquier tema del álbum es recomendable, no os decepcionarán.
El álbum se titula Soul Celebration y lo ha publicado el sello Bout Time Productions.
This album is a celebration of positivity and all the good things life has to offer. Jeff Hendrick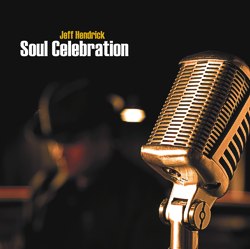 Celebrate.
Old School Party.
I Just Wanna Dance.
I Like The Way.
Summertime.
You're All I Ever Wanted.
She's So Sexy.
Love U Down.
One Ya Want.
Old School Party (feat. Spek).
Mi puntuación: 7 sobre 10.