Take 6 publica "Feels Good"
El conocido grupo Take 6 publicó hace unos días su nuevo álbum: "Feels Good". Más información.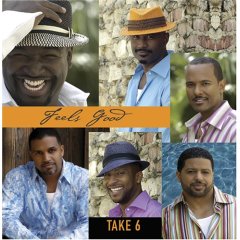 Come On.
This Another Day.
Feels Good.
Wait For the Sunshine.
Family Of Love.
More Than Ever.
Set U Free.
Vinterlude.
Just In time.
Lamb Of God.
I'll Never Turn Back No More.
You Can Make It-Go On.