Al fin... Kenny Lattimore & Chanté Moore: "Uncovered / Covered"
Después de numerosos problemas, al fin, apareció el nuevo álbum de Kenny Lattimore & Chanté Moore.
'Uncovered / Covered' consta de 2 discos y 28 canciones, no está nada mal. Trae el single que fue un avance del álbum el año pasado, (Tonight) 2 Step.
Al parecer, el primer disco contiene versiones de temas conocidos de la música Soul y R&B, y el segundo de temas Gospel.
Temas del primer disco:
Uncovered (intro)
Love Ballad
The Good Life
I Got You Babe
No Ordinary Love
Used To Love Me
Live With You
Here On Earth
(Tonight) 2 Step
Dream
Just A Dream
I Can't Sleep Baby
I Love You More
Everytime You Go
Beautiful Distraction
Vocal Booth
Who Could Want More
Figure It Out
Temas del segundo disco:
Jesus, Your Name
Clap You Hands
Make Me Like The Moon
No Limit
Give You My Praise
Lord I Really Love You
Mine All Mine
To Me
Never Alone
I Just Love To Praise You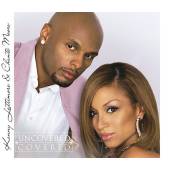 Un trabajo a tener en cuenta, y una de las grandes novedades esperadas de este año 2006.