Jeffrey Osborne: "All Because Of You"
Una de las canciones que inevitablemente pondría en mi discografía favorita es "All Because Of You" de Jeffrey Osborne, publicada en el álbum "One Love - One Dream" del año 1988. Esta canción fue escrita por el propio Jeffrey Osborne y Robert Brookins, y contó con la colaboración del saxofonista Gerald Albright.
La letra del tema es casi imposible de encontrar en Internet, hasta ahora. Me he tomado la libertad de copiarla del propio álbum, y aquí tenéis:
I was sitting up above the clouds
The one day you just came
Soaring by
Foolish me I hopped on for a ride
Oh why?
Then my life just took a sudden turn
It's hard to swallow but you live
And learn
I never felt a pain so deep that burned
So long
All because of you
You turned me inside out
You reached inside and shook my soul
All because of you
I can't get off the ground
I was doing fine and then came you
I guess I should have looked
Before I leaped
Before I knew it I was in too deep
A selfish someone who would play
For keeps
With my heart
Chances are the sun may never shine
At least for me not for a long, long time
You made me so ashamed to think
That I was so blind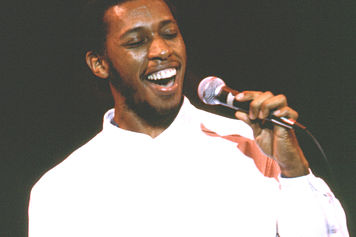 Por cierto, hace mucho tiempo os prometí algo así.
Si me hubieran dado un euro por cada vez que he escuchado esta canción... Y ahora sólo os tendría que preguntar: ¿por qué no se hace música Soul así hoy en día? y así me ganaría a todos los nostálgicos que leen AlmaSoul.