Sunday Soul Selection de Shaun Robbins
Sunday Soul Selection de Shaun Robbins es mi programa de radio favorito. Este programa se emite cada domingo en Solar Radio, entre las 10:00 y las 12:00, hora de Inglaterra.
El programa esta dedicado a la música Soul de los 60 y los 70, y sobre todo a las rarezas y temas difíciles de encontrar, aunque en ocasiones Shaun Robbins pone música Soul de los 80, 90 y actual, pero siempre con muy buen gusto.
Pues bien, como ocurre en otros programas de radio, Shaun Robbins ha decidido lanzar una recopilación de temas y ponerlos en un álbum, gracias al sello Soul Brother Records.
La lista de temas que incluye es la siguiente:
Pulse - "Sunshine".
Leon Thomas - "Love Each Other".
The Dells - "Don't Trick Me, Treat Me".
Grace Jones - "Sorry".
Caroline Crawford - "A Nice Feeling".
Ralph Graham - "Ain't No Need".
The Dynamics - "We Found Love".
Jean Plum - "Here I Go Again".
Mary Mundy - "You Put A Hurting On Me".
Mac Davis - "I'm Just In Love".
Toby Kang - "I Just Want To Love You".
The Dramatics - "No Rebate On Love".
The Drifters - "Pour Your Little Heart Out".
Anthony White - "Yes You Need Love".
Major Lance - "Don't You Know I Love You".
The Presidents - "It's All Over".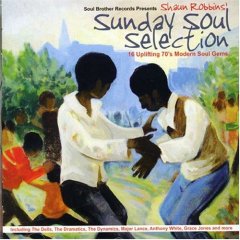 En junorecords se pueden escuchar parte de los temas que incluye este álbum.